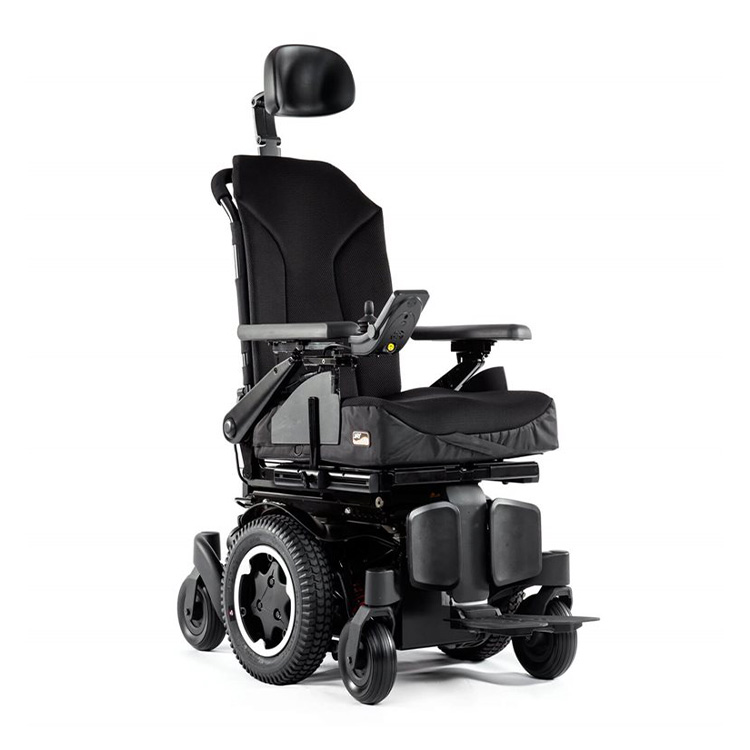 Sunrise Quickie Q300 M Mini Power Wheelchair
The narrowest TRUE mid wheel drive powerchair. Go where others can't with the Q300 M Mini – the narrowest (520mm) true mid wheel drive powerchair with a turning circle of just 1120mm. The Q300 M Mini is taking outdoor performance to the next level with BIG powerchair features to get you further than ever before. 
Enjoy a safe and comfortable ride with patented all wheel suspension that independently cushions every wheel. Climb kerbs of up to 3" (70mm) with 12" drive wheels. Power though tricky terrain with super strong 4 pole motors and enjoy an energy efficient range of up to 30km with 34 AH batteries.
Features:
Mid wheel drive

Anti pitch technology prevents tipping up and down gradients

Tiny 1200mm turning circle

Short 1060mm base length

Easy transfer with 430mm seat height

2 pole motors

Tilt in space with 30 degrees of powered tilt
Technical Specifications:
User Weight Capacity: 136 kg

Maximum Speed: 6 km/h, 8 km/h, 10 km/h

Maximum Range: Up to 30 km

Seat Width: 385mm – 510mm

Seat Height: 410mm – 490mm

Seat Depth: 410mm – 560mm

Unit Width: 520mm (12" drive wheels), 540mm (13" drive wheels) and 570mm (14" drive wheels)

Unit Length: 1060mm – 1180mm

Backrest Height: 460mm – 510mm

Turning Radius: 560mm

Batteries: 34 AHl

Maximum Safe Slope: 6 degrees

Maximum Kerb Climb: 70mm with 14" drive wheels

Electronics: VR2 controller, lights and indicators

Wheel Configuration: Mid wheel drive
Enquire about our Sunrise Quickie Q300 M Mini
Independent Mobility & Rehab Affiliations