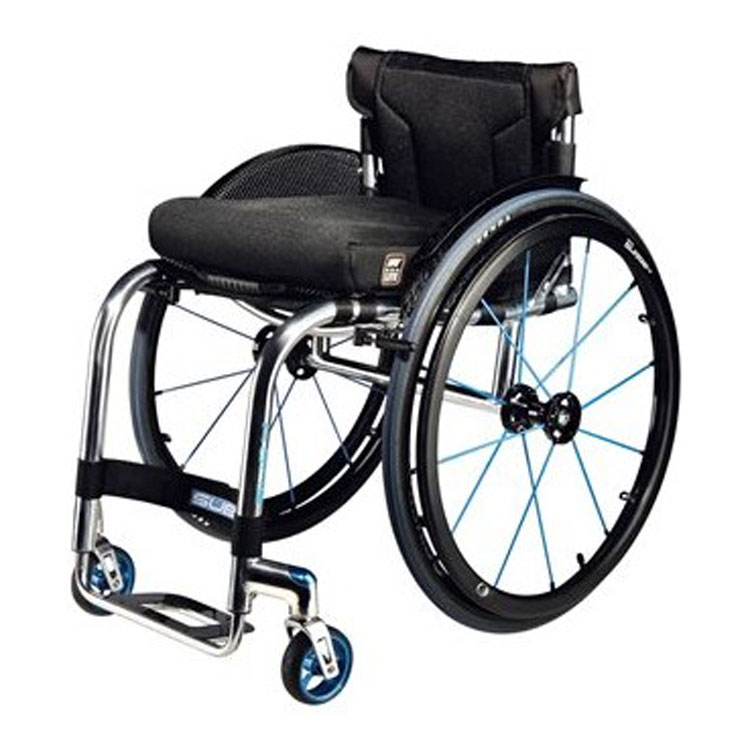 Sunrise RGK Tiga Sub4 Wheelchair
Made from aerospace grade aluminium, the RGK TIGA SUB4 ultra lightweight rigid wheelchair has been engineered with love, passion and sheer determination to provide the lightest made to measure wheelchair, with no compromises.  
The made to measure wheelchair frame is guaranteed to be under 4 kg* – with the exact weight on your certified frame. This includes all standard components such as; compact wheel locks, carbon fibre side guards with fender, Froglegs castors, carbon fibre footrest cover and upholstery. The SUB4 glides effortlessly due to the lightweight and rigid frame, you can be sure the TIGA SUB4 isn't just super light, but it's super strong too!
Features:
Aerospace grade 7 series aluminium

Optimised hollow forged castor arm

Fixed centre of gravity

Fixed backrest

Low profile cross braces

Optimised single tube design

Optimised axle and pin set up with Titanium sleeves

Polished or brushed finish

Lightweight side guard mounting

Lightweight brake mounting system

Product Weight: less than 4 kg guaranteed* (excluding wheels and cushion)
Technical Specifications:
User Weight Capacity: 110 kg

Seat Width: 250mm – 440mm

Seat Depth: 250mm – 440mm

Front Seat Height: 380mm – 520mm

Rear Seat Height: 360mm – 500mm

Backrest Height: 100mm – 400mm

Backrest Angle: customer specific

Frame Angle: customer specific

Camber: 1, 2 and 3 degrees

Colours: 23 frame colours plus 5 anodised accent colours available

Total Product Weight: Frame under 4 kg
Enquire about our Sunrise RGK Tiga Sub4
Independent Mobility & Rehab Affiliations