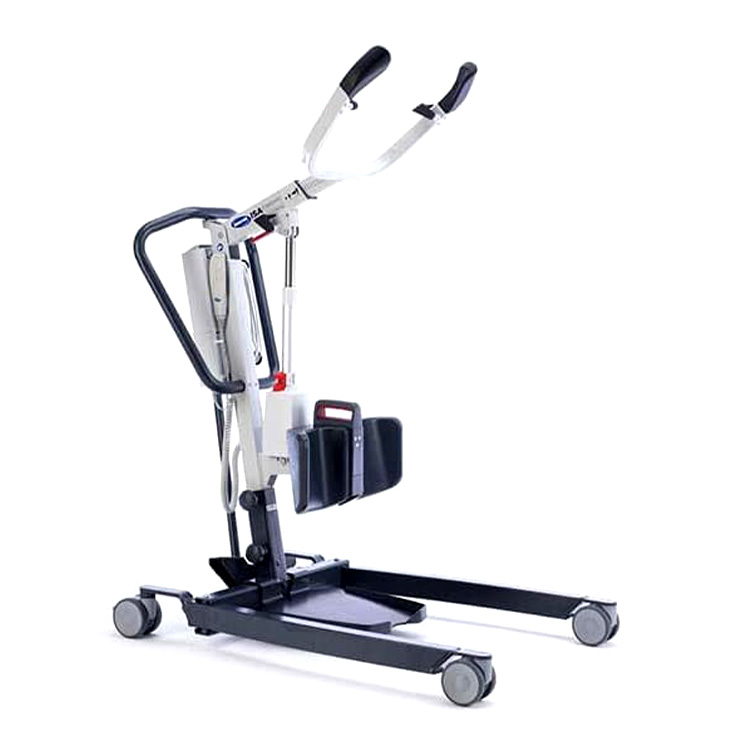 Invacare Stand Assist Lifter
Optimised design for comfortable transfers – lower leg support, extendable lifting arm, ergonomic hand grips.
Our new versatile Invacare Stand Assist (ISA) lifter has been designed to suit a range of users who require assistance during a transfer but can bear weight. The lifter provides safety, comfort and a more pleasant experience for clients. As a caregiver, usability is a fundamental element, which is why the new ISA has a reduced, curved overall base dimension and reduced product weight. In many cases, the caregiver may be a family member, and therefore the ease of use is imperative.
Features:
Ergonomic hand grips to fit the natural shape of the hand and position of the wrist

Extendable lifting arm – different length settings to suit the body weight of the client

Lower leg support – many height settings to fit with different lower leg dimensions

Push bar – shape and dimension based on the average elbow height and shoulder width of a typical carer, to ensure smoothness and ease when manoeuvring

Foot pedal – non slippery and large surface for enhanced user comfort
Technical Specifications:
Base Length: 925mm

Base Width: 535mm

Inside Width (legs closed): 405mm

Inside Width (legs open): 735mm

Turning Diameter: 1060mm

Lifting Range: 505 – 675mm

Ground Clearance: 35mm

Height of Legs" 115mm

Maximum User Weight: 140kg

Lifting Speed: 46mm/s

Battery Time: 82 cycles
Enquire about our Invacare Stand Assist Lifter
Independent Mobility & Rehab Affiliations