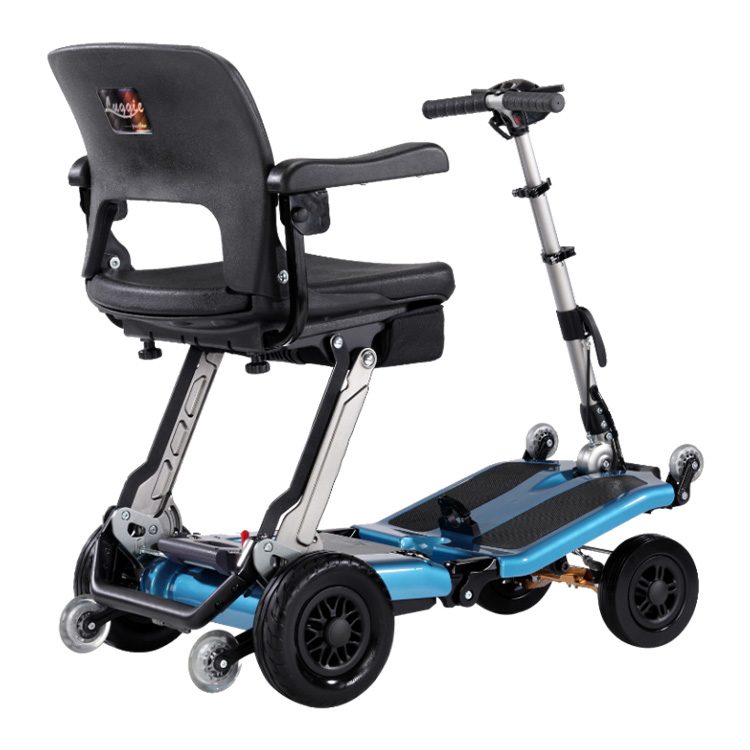 Luggie Super Deluxe Portable Scooter
The Luggie Super Deluxe mobility scooter is the wide track version of the Super Plus, complete with front suspension and pneumatic tyres for those that want more stability and comfort when tackling rugged terrain. The Super Deluxe comes with a larger seat , and standard 10.5 AH Li-Ion batteries, which can be upgraded to 16.5 AH Li-Ion giving it a much higher range. With the well designed front suspension and larger pneumatic tyres on the rear, the ride is smooth and comfortable.
Features:
The wider track on the front axle, combined with the wider rear axle give the Luggie Super Deluxe range an enhanced stability, but with a slightly higher turning circle

Upgraded front wheel suspension and pneumatic rear tyres gives this model a softer ride over rough surfaces

The Luggie Suppers have an even higher carrying capacity than the elite Models, making then suitable for larger people needing a heavy duty zoning.
Technical Specifications:
Dimensions: 990mm x 580mm

Armrest width: 585mm

Weight without batteries: 31.3kg

Battery weight: 2.2kg

Forward speed: 8 kph

Range: 20-30 km

Turning circle: 950mm

Ground clearance: 29mm

Seat size (L x W): 392mm – 432mm

Seat base from ground: 508mm – 559mm

Battery type and size: Li-Ion, 16.5 AH

Charger: 5 AMP

Tyres, front: 178mm solid

Tyres, rear: 228mm pneumatic

Suspension: Front

Maximum user capacity: 163kg
Enquire about our Luggie Super Deluxe Scooter
Independent Mobility & Rehab Affiliations