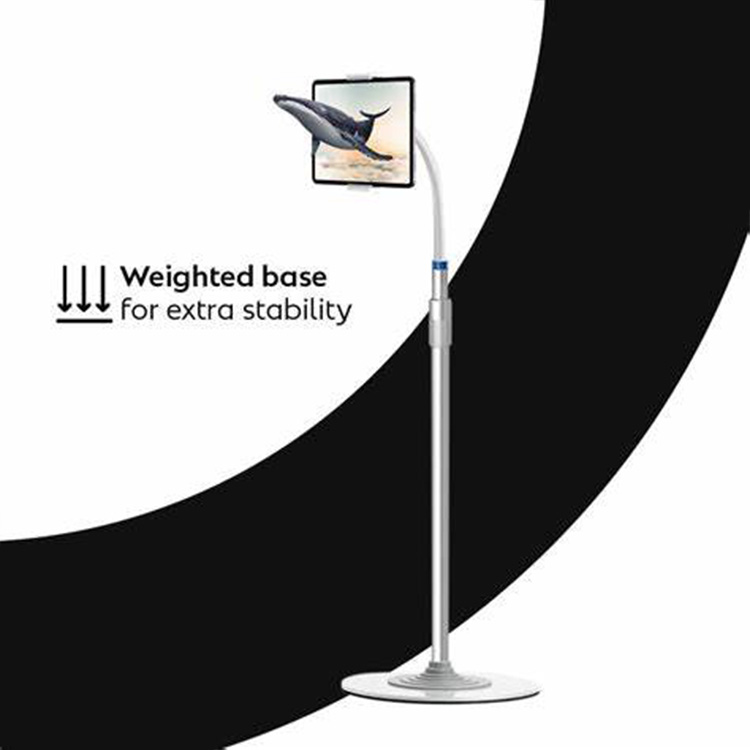 Flex180 S4 – Floor Stand for Phone & Tablet
With exquisite workmanship, the simple and compact design of the Flex180 S4 Floor Stand will allow your device to be accessible at your fingertips. It has easy installation and provides the ultimate experience when using a tablet or Smartphone to watch videos, playing a game, video record, video call, cook, watch a yoga tutorial or fitness video, view photos, read and type.  Perfect for a hands free lifestyle!
Features:
Adjustable height and angle

Flexible arm that can be bent to suit your viewing needs of 60cm long

Ergonomic design with a 3650 degree flexibility

Top bracket has been manufactured with increased resistance and a durable structure to support continuous up and down adjustments

Up to 20,000 movements without tension loosening

Super sturdy and anti slip

Exquisite aluminium alloy body and metal weighted anti-slip base allows the phone holder to hold your device more steadily

Sturdy structure support for screen touching actions whilst enjoying your viewing experience

Fully covered top silicone pads to protect your devices from scratching

Height: 185cm

Flexible: Yes

360 degree rotation : Yes
Technical Specifications:
Suitable for all devices including iPads with a case, all latest iPhone and Samsung devices from 2021 – both landscape and portrait mode are available.
Enquire about our Flex180 S4
Independent Mobility & Rehab Affiliations