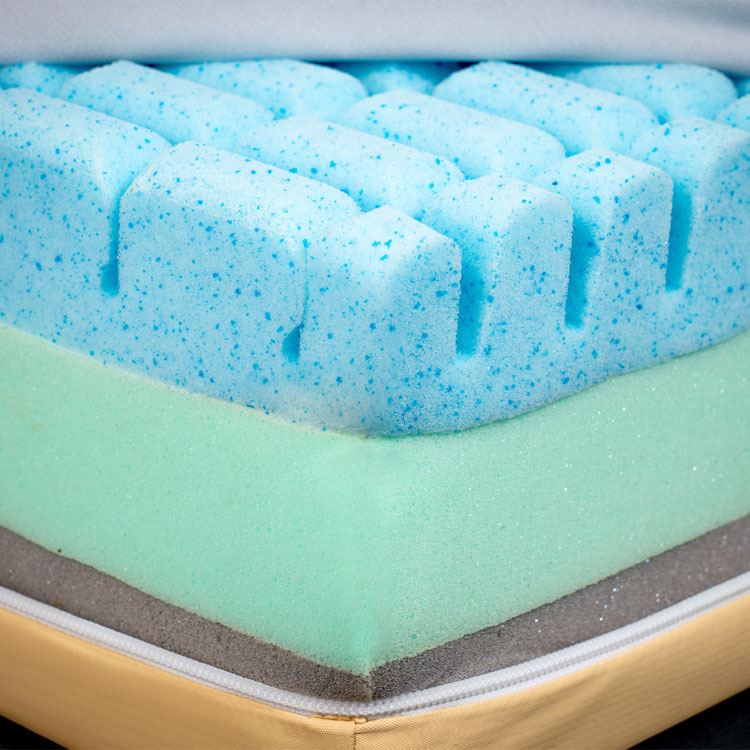 Liberty Fusion Gel Mattress
The Liberty Fusion Gel Mattress possesses all the features of the Liberty Pressure Care mattress yet takes into consideration the heating variability of the Australian climate, cooling and temperature needs for comfort and skin integrity, and the support needs of consumers with unproportioned body shapes (i.e. dysmorphic).
By incorporating the advanced properties of FusionGel in the mattress construction, this unique combination of memory foam and gel creates a cooler, more pleasant sleeping environment via heat dissipation, and aids in regulating body temperature. Active support of the body is possible when these gel particles come together under pressure – providing pressure relief and stability where and when you need it most.
Features:
Australian made

Traditionally handcrafted

Temperature control technology

Hypoallergenic and antimicrobial

Suitable for all adjustable and companion beds
Technical Specifications:
High density foam core

Suitable for people who are at risk to medium risk pressure injuries

Latex free, multi stretch, vapour permeable top cover with enhanced infection control features

High quality, flame retardant, medical grade visco elastic foam construction

Dedicated, sloped foot and heel zone designed for offloading and immersion therapies

Castellated foam top layer to aid in bed profiling, shear reduction and ventilation

Firm safety side walls to aid in reducing falls risk

Hinged base to conform to adjustable and profiling bed bases

Hypoallergenic, antifungal and antimicrobial

Suitable for all Adjustable and Companion Beds

Narrow Single Long: 2030mm x 760mm

Standard Single Long: 2030mm x 915mm

King Single – 2030mm x 1070mm

Long Double: 2030mm x 1370mm

Queen: 2030mm x 1525mm

Safe Work Load (Maximum): 160 kg (on all sizes)
Enquire about our Liberty Fusion Gel Mattress
Independent Mobility & Rehab Affiliations