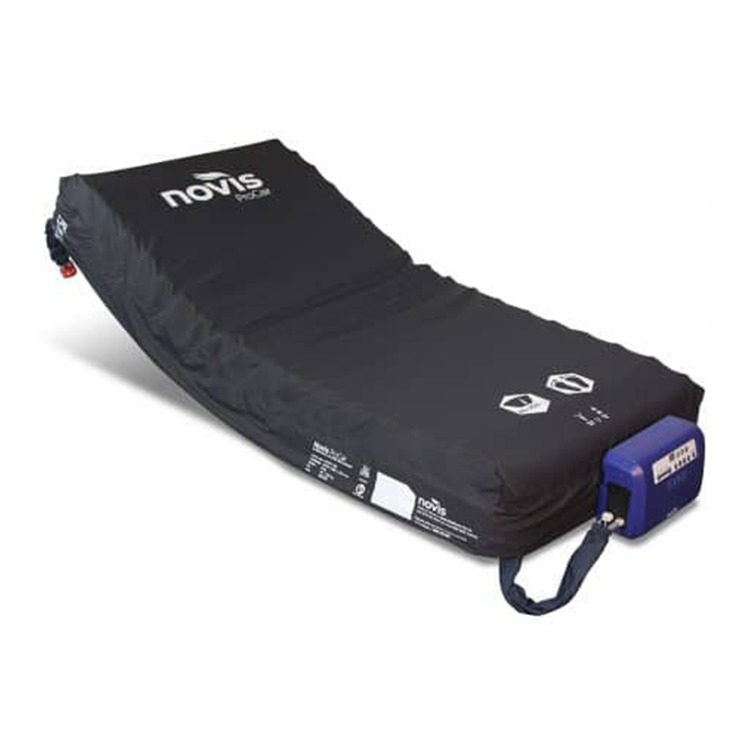 Novis ProCair Alternating Mattress System
The Novis ProCair Alternating Mattress system is for patients at very high risk of pressure injury, with wound stage 1-3. The ProCair offers a cost-effective solution while providing optimum patient comfort and safety. It is equipped with fully automated operational features; advanced safety features; easy set up and inbuilt error and service indicators. Available in Single and King Single models.
Features:
2 cell cycle therapy – 1 in 2 alternation

Easy set up and automated therapy

Informative error and service indicators

Manual Fowler Boost for continued therapy when the bed is raised for nursing.

Sealed mattress base version available for optimal infection control with enlarged CPR valve for acute care environment

Inbuilt service indicator for worry free maintenance

Ultimate protection form "bottoming out", alternating air cells contain a lower "safety cell" which remains fully inflated to provide greater surface stability and patient safety.
Technical Specifications:
Single Mattress: 2000mm x 880mm x 200mm

Single Sealed Base: 2000mm x 880mm x 200mm

King Single Mattress: 2000mm x 1050mm x 200mm

King Single Base: 2000mm x 1050mm x 200mm
Enquire about our Novis ProCair Alternating Mattress System
Independent Mobility & Rehab Affiliations